Summer is a great time to get lost in a book.  Moms and kids need quiet time, and it's nice to give kids the chance to pick books that interest them, with no teacher involved.  Here are some local opportunities to encourage your reader this summer: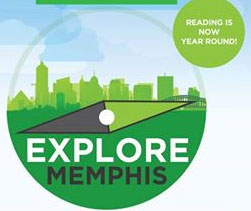 Memphis Libraries
The library is doing their Explore Memphis program again this year.  Children and teens can participate and earn entries into drawings for reading, exploring area attractions, and visiting the library.  You need to go to a branch to sign up.  The program kick off is May 30th and the program runs June 1st – July 25th.  There are lots of special activities – I've posted the ones from the Central and Poplar-White Station Libraries on the EMM Calendar.
Other Libraries:
Germantown Library
Saturday, May 30th – Friday, July 31st
Children (0-12 years) and Teen programs
Log your reading and earn prizes.  The last day to receive prizes is Sunday, August 9th.
Collierville Library
Tuesday, May 26th – Friday, July 24th
Kick-off party on May 26th from 10am-1pm.
Grades 5 and under. Win prizes for reading.