Trees are blooming, bulbs are popping up and the weather is improving. Easter is sneaking up on us! Here's a list of Easter-related happenings in the area. If you know of something I'm missing please comment on this post and let us all know. I'm definitely missing a few items at the bottom from last year. Pay attention to the registration deadlines for some of these events. Also – take note how many like the "Eggstravaganza" pun.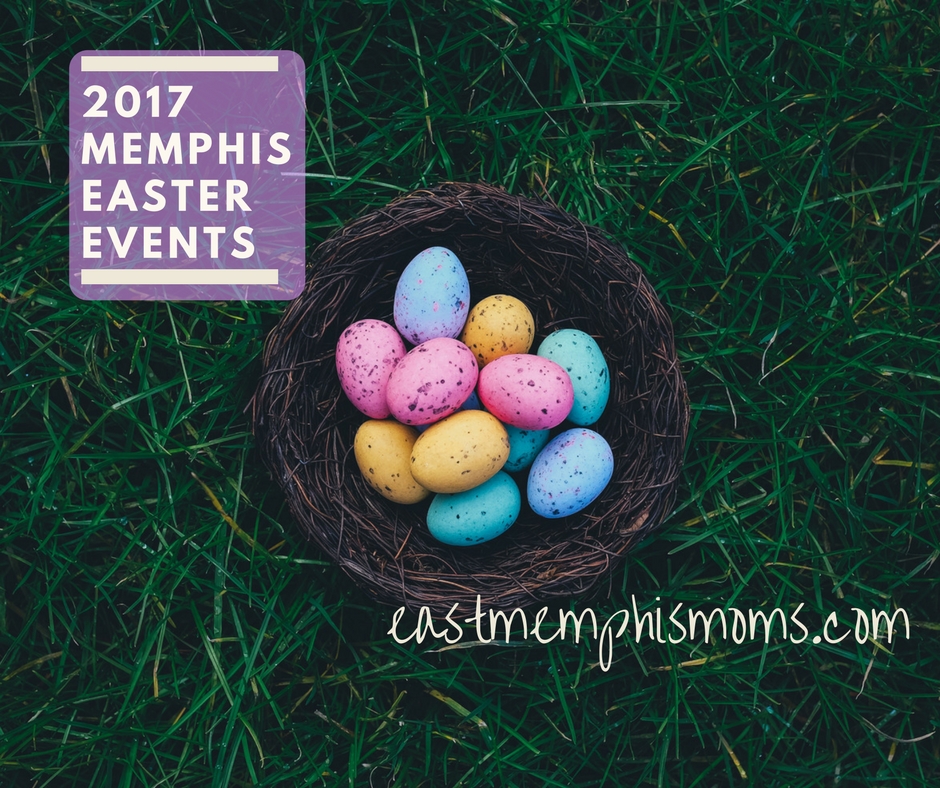 Ongoing
Photos with the Bunny
Carriage Crossing: April 1-15
Wolfchase Galleria: March 24-?
Bass Pro Shops (see below)
Cedar Hill Farms
Hernando, MS
April 8-15
$11
Enjoy a day at the farm; riding ponies, petting the animals, getting their faces painted and getting their picture made with the Easter Bunny. Several Easter Egg Hunts. Purchase tickets online, fee for activities. (Coupon code can be used before April 7.)
Saturday, March 25
Easter Basket Drive & Free Dance Camp
Ballet On Wheels Dance School
1015 Cooper St, Memphis, TN 38104
11:30-1:30pm
Price is a filled Easter basket to donate to a terminally ill child.
As a part of giving back to the community, Ballet On Wheels Dance School & Company will sponsor its 9th Annual Easter Basket Drive & Free Dance Camp on March 25, 2017 from 11:30 am to 1:00 pm for male and female students ages 3 – 14. The Easter Basket Drive & Dance Camp will be held at the BOW Dance Studios. Each participant in the camp is asked to bring a filled Easter Basket, ready to be given to a terminally ill child in our community. Camp participants should wear dance clothes, colorful tutus or other comfortable clothes suitable for dance movement. Participants 3 to 6 years old will participate in Creative Movement dance from 11:30 am to 12:15 pm only. Participants 7 years old and older will dance from 11:30 am to 1:00 pm plus watch a mini dance performance presented by the performance company of Ballet On Wheels Dance Company. Dance styles include: Ballet, Jazz, African, Hip Hop
Wednesday, March 29
Easter Bunny Storytime
Kid's Play, Germantown
10:30am
Included with admission.
Sunday, April 2
Sunday Tea and Easter Egg Hunt
Woodruff-Fontaine House
680 Adams Ave, Memphis
1-4pm
Adults $12, Children $10
Dust off those fancy shoes and fluff that over-sized hat! We're kicking off the Spring season with a charming tea party in the Gingerbread playhouse and an Easter egg hunt on the beautiful Woodruff-Fontaine House grounds. Refreshments will be served along with games and crafts for the kids. The Easter egg hunt will begin at 2pm. Don't forget your Easter baskets!
Monday, April 3
Breakfast with the Easter Bunny
Kid's Play
9155 Poplar Ave, Germantown
9am
$12 per child, $9 per adult
Breakfast includes pancakes, eggs, bagels, donuts, fruit, juices and coffee. Madison from Mad Photography will be available to take professional photos at an additional cost of $20 for 3 edited electronic prints.
Friday, April 7
After-Dark Easter Egg Hunt
Cameron Brown Park
8628 Farmington Blvd, Germantown
7:15-9pm
Breakfast with the Easter Bunny
Kid's Play
9155 Poplar Ave, Germantown
9am
$12 per child, $9 per adult
Breakfast includes pancakes, eggs, bagels, donuts, fruit, juices and coffee. Madison from Mad Photography will be available to take professional photos at an additional cost of $20 for 3 edited electronic prints.
Saturday, April 8
Bunny Breakfast
Our Lady of Perpetual Help (OLPH)
8151 Poplar Ave, Germantown
8a-12p
Elmwood Easter Egg Hunt
Elmwood Cemetery
824 S Dudley, Memphis
9am
FREE
The cemetery staff and volunteers invite our youngest of friends to join us for an Easter egg hunt! This fun event is open to kids from 1 to 10 years of age. Make sure to bring your Easter basket so that you can find plenty of eggs. We'll hide a prize egg, too. The Easter bunny will even be joining us for photos! This event is free and open to the public, but registration is required! Simply email [email protected] and let us know how many kids you are bringing. We will begin on time – parents, please be prompt! Call with questions at 901-774-3212.
Urban Egg Hunt by Hope Church
Multi-National Ministries
1548 Poplar, Memphis
10-11:30am
FREE
Cameron Brown Easter Eggstravaganza
Cameron Brown Park
8628 Farmington, Germantown
10a-1p
FREE
Egg hunts: Up to 2 years, 10:30a; 3 to 4 years, 11a; 5 to 6 years, 11:30a; 7 to 8 years, noon. Hop on over and have some fun, look for eggs each and every one. Little ones can enjoy a free petting zoo, moon bounces and age-divided egg hunts with prizes. Meet the Easter Bunny and find candy-filled eggs. Don't forget a basket and camera. Concessions are available for purchase. Rain date is Tuesday, April 11.
Easter Through the Looking Glass
CMOM
2525 Central, Memphis
10a-1p
Members $5, Non-members $20
Hop on over for photos with the Easter Bunny and greet some very special characters throughout the museum. Meet Alice, her furry feline, a pale queen, and a hatter that's gone mad! Decorate wooden eggs and don't miss the chance to create your very own colorful Duct Tape Easter bucket to fill with deluxe Easter treats from the Candy Station. Enjoy themed face painting and balloon twisting from The Balloon Guy. Every child receives an egg-stra special plush bunny to take home. Advanced reservation prices: members are $3 and non-members are $18 and includes a museum visit. At the door pricing day of the event based on availability: members are $5 and non-members are $20. All sales final – tickets are non-refundable!
Hope 4 Macky & Friends Special Needs Egg Hunt
Hope Church
8500 Walnut Grove Rd, Cordova
11am-2p
FREE
Easter Egg Hunt
Second Baptist
4680 Walnut Grove, Memphis
11a-1p
Easter Eggstravaganza!
YMCA at Schilling Farms
1185 Schilling Blvd E, Collierville
2-3pm
FREE for members; $5 Non-Members
Come prepared to get wet at the annual Easter Eggstravaganza in the indoor pool! Wear your swim suit and bring a towel, basket, and your own flotation device if needed. Activities following egg float in the meeting room. Please arrive 15 minutes prior to your scheduled time. Reserve your spot by April 6th. Space is limited. Walk-ins will not be accepted. Age 3-5 2pm; Age 6-9 2:15pm; Age 10-14 2:30pm
Easter Eggstravaganza!
Christ the King Lutheran Church
5296 Park, Memphis
3-5pm
FREE
Fun activities will include a petting zoo, face painting, balloon sculptures, bouncy house, ice cream sundaes, a traditional Easter Egg Hunt and, of course, the Easter Bunny himself!  The event is free and open to the community.  For ages 3-year-olds to 6th grade.  For more information, contact Lauren Gilchrist at [email protected].
Sunday, April 9
Easter Egg Hunt & Cook-Out
Lindenwood Church
2400 Union Ave, Memphis
11:30a-1pm
12 and under
Easter Eggstravaganza
Highland Church of Christ
400 N. Houston Levee, Cordova
3pm
Special Needs Easter Egg Hunt
Germantown Presbyterian Church
2363 Germantown Rd, Germantown
3pm
FREE
Easter Egg Hunt
Germantown Presbyterian Church
2363 Germantown Rd, Germantown
4pm
FREE
Easter Egg Hunt
Trinity Baptist Church
8899 Trinity Rd, Cordova
4pm
Calvary: The Dramatic Story of Christ
Buckman Performing Arts Center
60 Perkins Extd
5-8pm
$15-$25
The purpose of this play is to exhibit a musical presentation of the meaning of Spiritual Love and Sacrifice. The setting provides the audience an experience to see acting, music, dancing, and puppetry. The storyline centers a young girl named Libi who learns how Jesus gave his life for us through her mother Odelia; who recreates a visual painting of how Jesus suffered. This musically inclined journey challenges us to walk the footsteps Jesus faced traveling to Calvary and agonizing moments on the cross until his death. This fun-filled skit will set your souls to laughter as we comically illustrate a theatrical representation of how love saves a family and brought them together.
Wednesday, April 12
Easter Egg Hunt
Kid's Play
9155 Poplar Ave, Germantown
10:30am
The egg hunt is included with your daily admission of $9 per child.  BYOB – bring your own basket.
Saturday, April 15
SRVS Bunny Run 
Independent Presbyterian Church
4738 Walnut Grove Rd, Memphis
Race starts at 9am
Registration ranges from $10-$30
Walkers start immediately after, followed by the 1 mile Family fun run/walk. A great family event including children's games, face painting, Easter egg hunt, a visit from the Easter Bunny!
Easter Egg Hunt
Germantown United Methodist Church
2331 S Germantown Rd, Germantown
Time TBD
Our annual Easter Egg Hunt is held the Saturday before Easter at GUMC's McVay Gardens Park. This fun and festive event provides is a great opportunity for family and fellowship! In addition to the traditional egg hunt, children can enjoy a petting zoo, fun crafts, yummy snacks, and much more! The Easter Bunny makes an appearance as well. Parking is available at the Owings Life Enrichment Center.
Easter Egg Hunt
Dixon Gallery & Gardens
4339 Park Ave, Memphis
9:30-11a
Members $8, Non-members $10
Hunt begins promptly at 10:45am. Light refreshments will be provided.
Easter Egg Hunt
Emmanuel Methodist Church
2404 Kirby Rd, Memphis
10a-12p
Second Presbyterian Egg Hunt
Second Pres. Church
4055 Poplar Ave, Memphis
10-11am
FREE
Easter egg hunt on the Poplar football field for children in third grade and under.
Easter Egg Hunt
Humane Society
935 Farm Rd, Memphis
10a-1p
$10 donation per child or dog
This isn't your typical Easter Egg Hunt event – it's for both kids and pets! We'll have eggs hidden all over the spacious Humane Society property, and it'll be an afternoon to remember. Don't forget to bring your Easter baskets!
A $10 donation per child or dog includes egg hunt entry and a treat bag filled with goodies. Don't worry, we'll have seperate treat bags for pups and kids. There will also be free face painting and more fun activities for the whole family. The HSMSC mascot, Hugh the Rescue, can't wait to see you!
Wildflowers Photography will be on site for pet, children, or family photos. For a $10 donation, you'll receive professional photos emailed to you that evening. Baby chicks and ducks are available for the photos.
Event schedule:
Dog Easter Egg Hunt @ 10:30am (All dogs must be on leash)
Child Easter Egg Hunt @ 11:30am
Easter Family Fest
First Assembly Memphis
8650 Walnut Grove, Cordova
12-3pm
FREE
Easter Eggstravaganza!
Immanuel Lutheran Church
6325 Raleigh Lagrange Rd, Memphis
12-2p
Free to go, but you must register to attend.
Family Easter Eggtravaganza
Calvary Church
1851 Houston Levee, Cordova
Time?
Family Egg Hunt
Memphis Botanic Garden
750 Cherry Rd, Memphis
1-4pm
MBG members $6, non-members $8. Under 2 free. Tickets $10 at the gate, based on availability.
Spring wouldn't be the same without the Garden's annual Egg Hunt, complete with age-friendly areas, live music and magic, and a 96-acre hunt with prizes for the adults as well! Bring the little ones to the 2-and-under Bunny Hop area for a mellow, hunt-at-your-own-pace space, from 1:00-4:00 p.m. 3-4 year olds will have their own hunt at 2:30 pm; 5-7 year olds at 2:45 pm, and 8-10 year olds at 3:00 pm. Family prize egg hunt begins at 1:00 pm, and ends at 4:00 pm, or when all eggs are found. (1 prize egg per family, please!) Everyone will enjoy kids' crafts, lawn games, and outdoor activities throughout the day. Photos with the Easter Bunny and concessions available at additional cost. Advance tickets online and also available at the front desk.Call 636-4100 for information.
Easter Eve Concert
Hosted by Independent Pres. Church
Levitt Shell
1928 Poplar Ave, Memphis
6pm
FREE
Everyone is welcome to attend this FREE event at the historic Levitt Shell, located in Overton Park. Invite your family and friends to enjoy a spring evening on Easter Eve featuring singer/songwriter, Sam Mooney.
Sunday, April 16 – Easter
Easter Sunrise Service at the Garden
Hosted by Second Presbyterian Church
Memphis Botanic Garden
750 Cherry Rd
6:30am
70th Annual Crystal Shrine Grotto Easter Sunrise Service 
Memorial Park Crystal Shrine Grotton
5668 Poplar Avenue
7am
FREE
An ecumenical service at the historic Crystal Shrine Grotto. Light refreshments (i.e. doughnuts and juice for the kids) will be served. For more information, please call 901-767-8930. EMM Review
Info coming soon on
Bass Pro Shops
Journey to the Cross, Bartlett Baptist
JA Easter Bunny Hop Collierville
Easter Egg Hunt & Easter Basket Contest at W.J. Freeman Park, Bartlett
Christ Methodist Church Egg Hunt?
Kroc Egg Drop?
Levitt Shell Sunrise Easter service?
Anything at Shelby Farms?
Oak Court Easter Bunny?