It's always a good idea to look for additional ways to reduce the amount of trash that ends up in landfills.  A lot of the stuff on this list can cause problems with our soil and water supply…plus if you recycle it reduces the need for raw materials for new items.  Obviously the city recycles at the curb (or at a drop-off center), but with just a little storage space you can recycle several other items as you go about your regular errands in East Memphis.  Don't forget to get your big kids to help!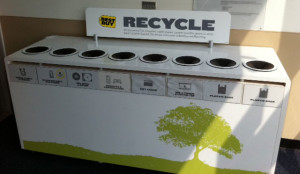 City of Memphis Recycling
Complete details on what the city will and will not take for recycling can be found on their website, below is a summary.  I can't seem to find details on obtaining an additional recycling bin, the site recommends putting additional items in paper grocery bags placed beside your tan recycling bin.
For the following items, you don't have to remove labels or sort but they'd like you to rinse out the item
Steel cans (including aerosol), aluminum cans
Plastic bottles w/out caps (#1-#7)*
Glass bottles & jars w/out lids
paper, newspapers & magazines (including phone books)
Cardboard (corrugated and paperboard) – flattened and no bigger than 24″ x 48″ (no pizza boxes, milk cartons, overly wet boxes, boxes with contents).
* although the city website does not indicate this, I've had several moms tell me they have been to the facility and they accept all of these plastics
Here are other items you can recycle for free in the East Memphis area:
#5 Plastics
Whole Foods recycles these containers as part of the Gimmie 5 program.
Wire Hangers
Most dry cleaners will take these.
Plastic Bags
Target, Lowe's, Wal-Mart, Best Buy and Kroger all take plastic bags
Old Sneakers & Jeans
Fleet Feet Sports 4530 Poplar takes old sneakers, Shelby Farms also has a collection bin for old sneakers by the vending machines (between the bathrooms) at Woodland Discovery Playground.
Whole Foods has a metal trash can for jeans. Great spot for those kid jeans with no knees!
Worn Out Clothes, Sheets and Towels
Goodwill will take these items, as long as the material is not wet or contaminated with chemicals.  They will sort and sell the items for recycling or other uses, such as sofa stuffing.
Corks
Whole Foods has a bin for cork recycling.
Light Bulbs
Lowe's & Home Depot both accept compact fluorescent bulbs, so does Batteries Plus
Lowe's was taking old Christmas tree lights last year
Batteries & Electronics
Batteries Plus –  lead acid (Pb) batteries used in cars, trucks and emergency lighting, Nickel Cadmium (NiCd) batteries used in cordless phones, cordless tools and two way radios, Nickel Metal Hydride (NiMH) batteries used in camcorders, bar code scanners and digital cameras, Lithium Ion (Li Ion) or Lithium Polymer (Li Poly) used in cell phones and laptops.  They accept portable electronic devices such as cell/smartphones, laptop/netbooks, MP3s, PDAs and portable tools for recycling.
Best Buy takes rechargeable batteries, wire, cords and cables; CDs, DVDs and cases; remotes and game controllers; ink and toner cartridges; plastic bags; computers
Target accepts MP3 players and cell phones.
Ink & Toner Cartridges
Target accepts ink cartridges
Office Depot accepts both ink and toner cartridges
Best Buy takes ink and toner cartridges
Appliances, Light Fixtures, Tile, etc.
Habitat for Humanity ReStore accepts donations of things like kitchen cabinets, light fixtures, tile, appliances, furniture, doors, windows, and more.  So if you're remodeling you can bring your old stuff and get a tax write off!  This is also a great place to shop, especially if you live in an old house and you're trying to find a matching door.  Not in East Memphis…but they have a pick-up service!
Oasis of Hope accepts appliances and will pick them up
Batteries Plus takes light bulbs
Hazardous Waste & Metal
Memphis & Shelby County Hazardous Waste Collection Facility
Obviously not recycling, but worth adding to the list!  See their website for a list of items they accept.
Sims Metal Management buys and recycles metal from businesses and individuals.  The ad I saw said: "no item is too large or too small" and had photos of old appliances.
Tires
Shelby County operates a Tire Recycling Center