What kid doesn't love a school t-shirt?  Mine do!  Here are some spots the moms recommend going to get your custom screen-printed t-shirts made.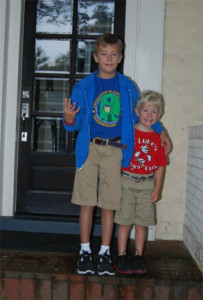 ask for Seth Reeves at ext 302. They are AWESOME! Free artwork and set up. If you order 100+ shirts, they are $5 a shirt for front and back print!
I agree MidSouth Solutions is great!
Agape North
for each shirt they sell, they give a needy child a uniform shirt.  I think they do custom orders. Great organization!
Bluff city sports on cooper. Used then for 10 yrs. fast and affordable
Bluff city sports is awesome!
Ditto the Shirt Place on Yates!! They have done great, quick work for us!
The T-Shirt place on Yates @ Poplar
Tshirt place is great and the owner is very friendly. They make quality shirts.
Custom Plaques
locally owned, very fast, and fairly priced.
My Town Tees
on the Collierville Square, an amazing little shop!
Grand Slam Athletics
Great prices and great people! They are family owned and local!
T-Shirt Champions
provides free shipping and some of the best pricing online.
Flipside Screen Printing
In Bartlett at Summer and stage, next door to the "yellow liquor store"  Very reasonable pricing and great customer service.