Looking for a place to take your family that's not too far away?  Atlanta is less than six hours away and has lots of fun things for families.  A mom asked for suggestions on places to stay and things to do.  Have more suggestions?  Please add them via a comment.  Looking for more info?  The Atlanta Convention & Visitor's Bureau is a good place to start, or check out the AtlantaMoms website.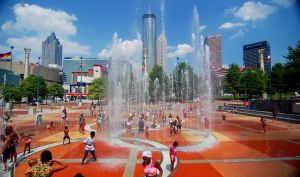 Attractions
my favorite of all is Stone Mountain
Being an Atlanta native… Stone mountain is a must. Especially the laser show.
Catch the story teller at Stone Mountain, he's a long time friend and former teacher of mine.

Stone Mountain is a great park but may have limited exhibits open

didn't the winter months. I went during Spring Break last year and the snow exhibit was being taken down.

We went snow tubing at stone mountain, but not su

re how late into winter it is offered.

They have a neat sky walk in the trees
The Coke Museum is a lot of fun and depending on what time of year they're going
Don't waste your money on the coke museum though. It was overpriced. I guess I'm glad I did it once but we won't go back.
My son and myself hated the coke museum.
boys liked the tasting room but that was it
Go to Underground Atlanta!
Underground Atlanta has gotten scary
The aquarium was great.
Aquarium is awesome.
The dolphin show at the aquarium is not to be missed.
We did legoland which was good too – order tickets online though.
Lego Discovery Center was great!
Fernbank Museum of Natural History
I thought my kids might not like as much but they had a blast there.
Southeastern Railway Museum
There's an awesome train museum there
Sensations
For a fun inside activity there's a place called sensations. I've never seen anything like it and my kids ages 2-9 all like it.
Food
Tijuana Garage in little 5 points, awesome!
Most families like to stop at The Varsity downtown.
Definitely grab a burger/dog at Varsity.
Fellini's Pizza has a couple of locations around Atlanta (including Buckhead) and they're family friendly.
Cheesecake Factory. Fuddruckers. Check Diners Drivein and Dives web page, he goes to Atlanta often
Eat at Farmburger! Or Buckhead Diner!
I'm from Atlanta.  Any of the Buckhead Life restaurants for good food (Buckhead Diner).
Eat at Vortex
If you have a car and like ethnic food, drive up Buford Highway. It has become a Mecca of international restaurants.
Lodging
Stay and eat in Buckhead. Nice shopping in Buckhead too.

Buckhead is wonderful just steer clear of embassy suites.

I am also from ATL and recommend staying in Buckhead/Lenox area.

I agree with staying in Buckhead. It's a safe area and relatively close to everything.
There are certainly more expensive and cheaper options but I'm a big fan of the Double Tree Hotel in the heart of Buckhead near Lennox and Phipps Plaza.

Don't know that I would recommend staying downtown. I'd stay closer to the Lenox Mall area.
Lake Lanier
Lake Lanier is awesome during the summer months.
There are some nice hotels on Peachtree St. Near the arts center station. We loved the Artmore. They are close to the high museum of art, which is really nice and ikea and Atlantic station, where we always go when we are there.