If you're fortunate enough to live near your family I'm guessing you can just skip this one.  Or maybe not.  Who else out there is crazy enough to fly with toddlers?  Internationally?  Okay!
My older son has a passport.  His first flight was at nine months old, to New England to visit family.  Since then we've lost count, and I've learned a few things on the way.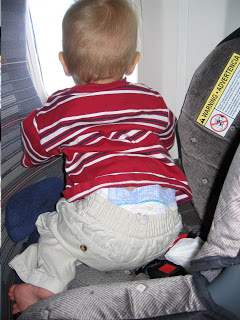 Babies
You can fly with a baby and not purchase them a seat.  I think up to two years old.  If you plan on doing this I recommend bringing a carrier – like an ERGO, or a Hot Sling if you're bringing a really young baby.  Besides being helpful as your hands are free, a carrier can help keep your child safe on a plane (God forbid you have a rough ride or emergency).
Obviously you need diapers and food.  If you're breastfeeding this is really simple as there is nothing extra to pack – you're it!  Nursing is a great comfort to babies.  I recall one flight when my second son was around 10 months old and we didn't buy him a seat (not fun…he was way to squirmy) and I felt like I nursed him for the entire trip.  I honestly didn't care though.  As long as he kept happy and quiet he could nurse as long and as often as he wanted!
A good umbrella stroller is a huge help.  We've had a McClarren Volo for seven years and it's still in great shape.
Toddlers
This gets a more challenging.  It really helps to have two things on hand: new toys and food, and make sure some of the food is irresistible (i.e. candy).  New toys are great fun as they are new (and we all know new is good).  Go to Knowledge Tree or The Village Toymaker and pick out some stuff from the small bins they have.  Little is good, as space is an issue.  You'll need several new things, since their attention span is not huge at this age.  Stickers are good, as are magnetic sets.  Things that light up are fun.  Avoid stuff that will be hard to find when your kid drops it.  Don't forget to download some good apps and shows for your phone or iPad, and hide the toys while you are on your trip so they are "new" again for the return flight!  Older toddlers will watch a video, so bring a portable DVD player or load them on your iPad.  Make sure you bring some food s/he will eat even if s/he is full.  Chewing helps as the pressure changes in the airplane.  Lollipops and sugar cereal and great.
food = fun on the airplane
Bring your car seat on board for young toddlers.  You need someplace to strap them in for take-off and landing.  My kids were always too squirmy to just sit in a regular seat at this age.  It helps to bring some folding wheels if you've got a connecting flight.  Car seats are not easy to carry.  If your child is prone to wander and does not want to hold hands consider a harness.  This can be a huge help as your child gets some freedom and you don't worry they are going to run off into the crowd.  If your child can sit still, buckled up, check the car seat.
Even if your toddler prefers to walk you should bring an umbrella stroller.  They will get tired and want to be carried, and you can always load it up with a carry-on bag and push it.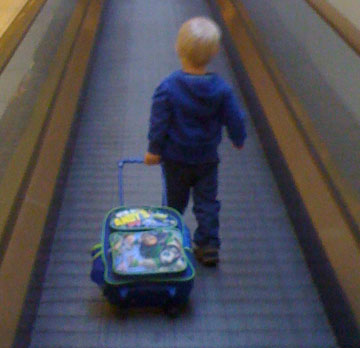 Around age 2.5, buy your kid a little suitcase on wheels to be used as a carry-on bag, and congratulate yourself.  Now your kid can carry his/her own crap!  If you get one that is also a backpack it's a big help when you realize you have six bags and only 2 adults and you need to make it from baggage claim to the parking lot shuttle.
Preschoolers
This is getting easier.  Still not fun or simple, but easier.  At this age you can skip the umbrella stroller if you're taking a direct flight and don't need it at your destination.  You can also check the car seat if your child will sit still (buckled up) on the airplane.  You'll be amazed at how spacious an airplane feels when you're sitting next to a little kid.  And you're not dragging around diapers!  Score.
Around age four is a good time to purchase a nicer carry-on bag for your child.  We have an awesome one from Lands End with light-up wheels.  It's really sturdy and has backpack straps.  My husband and I put our reading material in it – we dragged his crap around for years, now it's his turn!
A portable DVD player (or similar) is a must.  Let your child pick out which movies to bring, and consider headsets so they can hear the movie (and other passengers cannot).  Fun phone apps are still a big help, but browsing the magazines in the seat pocket is fun too (ever noticed how many dogs are in those?).  And don't forget food and beverages – that's a good way to kill time.
Me. A very tired, annoyed, pregnant mom
Remember: if your child screams the entire trip, and then passes out right before landing and stays asleep as you wait for your luggage – you'll probably never see these people again (even though it feels like they all want to wring your neck).
School-Aged Kids
WOOOO!  Congratulations!  You have just hit easy street.  These amazing humans can carry their own crap, they don't need a car seat on the plane (check a booster seat, it's free and way cheaper than getting one from a rental car company), they can be entertained with a lot less stuff (i.e. books, paper and pencils, cards) and they comprehend things like delays.  They don't like it, but they get it.
And if you're lucky, you might actually get to sit next to your spouse and read something adult-like while your kids sit together.  Ahhhhh!